PTO Fall Fundraiser
Please feel free to reach out to Fall Fundraiser Co-Chairs, Erin Henderson (erinhenderson1978@comcast.net) & Katie Sullivan (katiesullivan79@gmail.com) with any questions. The PTO can also be reached at pto@sclhbg.org.
Restaurant and Retail Fundraisers
Entire month of February- Buffalo Wild Wings.
February 28th 2020- Friendship Center from 4-8:30pm.
March 3rd-  Varsity vs Coaches and Teachers basketball game!!!
Please save the date for the annual PTO/ Athletic Association Varsity Players vs. Coaches & Teachers Basketball Game on Tuesday, March 3. Doors will open at 6:00 and tip-off is at 6:30. Join us to cheer on your favorite Royals! Halftime games will be open to any current SCLS student from Kindergarten through 8th grade – you can sign-up in advance and pay at the door. Please see the below flyer for more information.
Student vs. Faculty and Coaches Basketball Game
March 9th- 12th 2020- Chick Fila Fundraiser!    Our 8th grade students work of Pablo Picasso's Colorful Roosters will be displayed in the restaurant and all funds raised will go towards new supplies for art class!    The flyer must be presented prior to checkout to receive credit for the sale.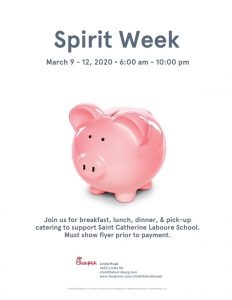 March 11th 2020- Friendly's from 5:00-8:00pm.
March 25th 2020- Chipotle from 4:00-8:00pm
April 28th 2020- Panera Bread from 4:00-8:00pm.
May 9th 2020- Sweet Frog from 12:00-5:00pm.   Info coming soon!
May 22nd 2020- Get Air from 11am-3pm.   Info coming soon!
Giant A+ Bonus Card Program
Our school is participating in the Giant A+ Bonus Card Rewards Program. The program helps SCLS earn cash each time friends and family shop at any Giant store. Giant has recently changed how bonus cards can be added; SCLS is no longer able to enter numbers submitted to us due to privacy concerns. To designate numbers, please register for an account or log in to your existing account and designate St. Catherine Labouré School to receive your Giant A+ Rewards.
Giant A+ Instructions for NEW Supporters
Box Tops for Education
Summer Box Tops Challenge Letter
Soda Can Tabs
The PTO will be partnering with Student Council for the 2019-20 school year for a service project to collect soda can tabs to be donated to the Ronald McDonald House, which helps the families of sick children being treated at the Milton S. Hershey Medical Center.
Please note that the PTO is NO LONGER able to accept Campbell's Soup labels, My Coke Rewards, Turkey Hill Moo Caps or used ink cartridges due to circumstances beyond our control. Thank you for your support of all of our fundraising efforts!