One thing that truly "makes us different" at Saint Catherine Labouré School is our GENEROUS OUTREACH IN CHARITY TO THOSE IN NEED!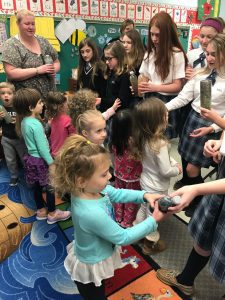 OUTREACH PROGRAMS
1. ADOPT-A-FAMILY: Many school families help other families to enjoy a wonderful Christmas. "Wish lists" come true through the generosity of many "Secret Santas".
2. BABY BOTTLES: During Lent, each Saint Catherine Labouré student receives a baby bottle to fill with their own coins and little prayer promises. These "alms" are sent to Morning Star in Harrisburg to help the infant babies of mothers who are in need.
3. COAT DRIVE: During the Autumn months, warm, new and gently-used coats and jackets are donated to local shelters to help the poor brave the winter cold.
4. COFFEE CUP: Monthly, some of our sixth graders spend some time with our Parish Senior Citizens and bring a homemade or treat from their classmates. In May, to celebrate "Coffee Cup's" birthday, many of the students also come to set up and serve their special anniversary dinner.
5. FEEDING THE HUNGRY: Every year, non-perishable food items for the hungry in the Harrisburg area are the admission tickets for our annual Spring Musical. The barrels are overflowing!
6.. HURRICANE RELIEF: This past year saw great devastation in Texas and Puerto Rico. As part of the Diocesan Parish Collection as well as the NCEA "Student to Student" Project, our students donated over $1,500 to the hurricane victims.
7.. MINI-THON: Catholic Schools Week concludes with a phenomenal Annual Mini-THON, mirroring THON at Penn State. This huge fundraiser, which supports children with pediatric cancer, is led by our Grade 8 Student Council and is the result of many months of hard work and creativity. An amazing evening of dancing, games, "locks for love", food, and lots of fun, it raised over $20,000 this year alone.
8. MISSION REPRESENTATIVES: Every month our third graders gather classroom mission banks to support the global outreach sponsored by the Holy Childhood Association.
9. SENSORY BOTTLES: The sixth grade class learned about students with Autism in their Language Arts Class and made sensory bottles that are helpful to children with Autism.
10. TOPPER TROT: "Kids helping Kids" Race held in the Spring in honor of Monsignor Vincent J. Topper, our loving friend who died in 2016 at 104 years old. It is a 5K and 1 Mile Fun Run where monies are raised for tuition assistance for our very own students.
11. VISITS TO THE NURSING HOME: Kindness to the elderly is extended by the students at a local nursing home. Children make cards, share goodie bags as well as visit and sing at Mass for the residents.