Basketball
3rd – 8th grades
Separate boys and girls teams (novice, Intermediate 2, JV, Intermediate 1 and Varsity-determination of teams depends on registration numbers)
Season runs October-March
After school, evenings, and weekends

Open gyms for basketball start on Monday (9/18). Registration for grade school basketball (3rd-8th grade) begins on Friday (9/15) – we will send and post a link for registration. Please note: High School sign-ups will not be until late December.

A matrix for open gym times is below for reference along with contact information for coaches involved.

Registration will begin 9/15 and run through 10/22.   To register, please click HERE
Cheerleading
Basketball Cheerleading:
3rd-8th grades
Registration will begin in October
Contact
Football Cheerleading:
Central Penn Crusaders Youth Cheerleading
Grades K-8
Cheer camp is held in July
Practices start the first week of August
Contact

Jaynee Munoz- cpcrusadersspiritsquad@gmail.com
Heart and Sole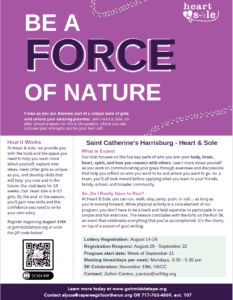 Soccer
5th-8th grades
Co-ed teams (JV and Varsity)
After school, evenings with some day practices in August.  Typically no weekends.
Soccer Coordinator Contact: Leah Adams:  leah.suka.adams@gmail.com
Registration is now open!  Please click HERE to register!
We are looking for coaches for both the JV and Varsity team!   If you are able to help, please let us know!
Free Youth Soccer Clinics!
Bishop McDevitt will be holding a number of free youth soccer clinics for girls in 4th- 8th grades.
Track and Field
3rd-8th grades (3rd grade exhibition/noncompetitive only)
Co-ed teams (JV and Varsity)
Season runs March-May
After school, evenings and weekends
Both track and field events
Contact:  Jamie Bufton (jbufton@sclhbg.org) or Bethany Sidella (bethanywurst@hotmail.com)
Wrestling
The season runs from November through January.
Little Crusaders:   for anyone interested in joining the wrestling team.  No experience is required.
Jr. High Wrestling:  for 7th and 8th grade boys.
Lady Crusader Wrestling:   for 6th-12th grade girls.
SCLS Athletic Association