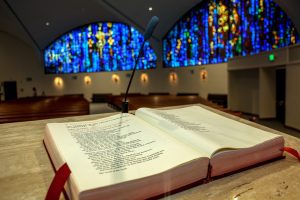 Effective May 29, 2020, Dauphin County transitioned to yellow phase allowing our parish to restore divine worship.  We are excited to welcome everyone back to the church beginning the weekend of June 6 and 7, 2020.  We are following the guidelines established by the Diocese of Harrisburg for churches opening in "yellow" counties.
Mass Schedule beginning June 6, 2020
Saturday • 4:30 p.m.
Sunday • 9:30 a.m.  •  7:00 p.m.
Shrine Church (In Person)
Murray Hall (Live Streamed)
*Mass in Murray Hall is the live stream of the Shrine Church Mass.  This is not a separate Mass.
All Masses will be live streamed on Facebook
Click below for important guidelines as we re-open:
Keeping Worshipers Safe
Returning to Church Guidelines
Sacrament of Penance Guidelines
Parish Office Hours
Monday – Friday: 8:00 a.m. – 1:00 p.m.