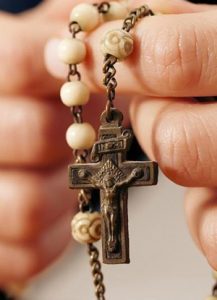 The Rosary of the Virgin Mary, which gradually took form in the second millennium under the guidance of the Spirit of God, is a prayer loved by countless Saints and encouraged by the Magisterium. Simple yet profound, it still remains, at the dawn of this third millennium, a prayer of great significance, destined to bring forth a harvest of holiness. It blends easily into the spiritual journey of the Christian life, which, after two thousand years, has lost none of the freshness of its beginnings and feels drawn by the Spirit of God to "set out into the deep" (duc in altum!) in order once more to proclaim, and even cry out, before the world that Jesus Christ is Lord and Saviour, "the way, and the truth and the life" (John 14:6), "the goal of human history and the point on which the desires of history and civilization turn". (Gaudium et Spes, 45)
The Rosary, though clearly Marian in character, is at heart a Christocentric prayer. In the sobriety of its elements, it has all the depth of the Gospel message in its entirety, of which it can be said to be a compendium. [Pope Paul VI, Apostolic Exhortation Marialis Cultus (2 February 1974] It is an echo of the prayer of Mary, her perennial Magnificat for the work of the redemptive Incarnation which began in her virginal womb. With the Rosary, the Christian people sits at the school of Mary and is led to contemplate the beauty on the face of Christ and to experience the depths of his love. Through the Rosary the faithful receive abundant grace, as though from the very hands of the Mother of the Redeemer.
-Pope John Paul II, "Rosarium Virginis Mariæ", 1-2
Prayer to our Lady of the Rosary
My dearest Mother Mary, behold us, your children, in prayer at your feet. Accept this Holy Rosary, which we offer you in accordance with your requests at Fatima, as a proof of our tender love for you, for the intentions of the Sacred Heart of Jesus, in atonement for the offenses committed against your Immaculate Heart, and for this special favor which we earnestly request in our Rosary today: [mention your request now].

We beg you to present our petition to your Divine Son. If you will pray for us, we cannot be refused. We know, dearest Mother, that you want us to seek God's holy Will concerning our request. If what we ask for should not be granted, pray that we may receive that which will be of greater benefit to our soul.

We offer you this spiritual "Bouquet of Roses" because we love you. We put all our confidence in you, since your prayers before God are most powerful. For the greater glory of God and for the sake of Jesus, your loving Son, hear and grant our prayer. Sweet Heart of Mary, be our salvation.