Our Patroness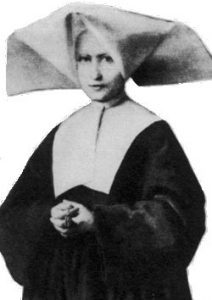 Saint Catherine Labouré was born on May 2, 1806, the child of Peter and Louise Labouré.  She was the ninth of a family of eleven children. When she was nine, her saintly mother died.  After living a year with her Aunt Margaret, Catherine came back to her father's farmhouse as mistress of the household, where she worked diligently with great charm.  On January 25, 1818, she made her First Communion. From that day forward, she rose at 4:00 am and walked several miles to Mass.  She prayed, meditated, worked and served the family well until she was 22.  It was then that she asked her father's permission to become of Daughter of Charity.  Her father flatly refused her.  After a year, with the help of her Aunt Jeanne's intercession, her father finally gave her permission to enter the convent.
Later, on November 27, 1830, the Blessed Mother appeared to her again.  Catherine, raising her eyes to the Main Altar, saw her beautiful Lady standing on a large globe.  Mary's silken robe shone with the whiteness of dawn.  A pure white veil fell to her feet and beneath the veil, she wore a lace band binding her hair.  A small golden ball was in her hands which she offered to God with her eyes heavenward. Suddenly, Mary's hands were resplendent and flashed in a brilliant cascade of light.  The flood of glory was so bright the globe on which Mary stood was no longer visible.  Catherine understood that the rays symbolized the graces shed on those who sought them.  The gems on Our Lady's fingers had no rays. Catherine understood this to symbolize the graces for which people did not ask.  Mary's arms swept wide and down.  Surrounding her head was an oval frame with the words, "O Mary conceived without sin, pray for us who have recourse to thee."
Then the vision of the Virgin turned completely around. on the other side appeared a huge M with a cross about it.  The letter rested on a bar, beneath with appeared two hearts.  The first heart was encircled by a crown of thorns, the second was pierced by a sword.  Catherine understood this to mean that we have been purchased by a God who was crucified in the very presence of His own mother, the Queen of Martyrs.  The Virgin spoke again.  This time, she gave a direct order, "Have a medal struck in this form.  All who wear it will receive great graces."  Catherine's confessor obtained permission from the Archbishop to have the medal struck.  On of the original medals is mounted on the Ambo of Saint Catherine Labouré Church.
Catherine Labouré kept this secret all of her life, revealing it only to her confessor.  She passed to her eternal reward on December 31, 1876, and was canonized on July 27, 1947.  The first parish in the world to be named in her honor was Saint Catherine Labouré Parish in Harrisburg, Pennsylvania, on March 1, 1948.  On July 5, 1976, the new Church was dedicated as The Shrine of the Miraculous Medal.
The Feast Day of Saint Catherine Labouré is November 28.