PARISHIONERS IN HOSPITAL
If you are hospitalized we welcome the opportunity to visit and pray with you. Saint Catherine Labouré Parish asks you or a family member to please notify us at parish office directly at parish@sclhbg.org, 717-564-1321, with your name, the hospital name and room number so that we may visit you and keep you in prayer.  This is necessary since HIPAA regulations prevent hospitals from notifying churches when a member has been admitted. If you are admitted to the hospital, please identify yourself as Catholic. You may also request to be anointed by the hospital's priest chaplain and you may request to receive Holy Communion which will generally be administered by each hospital's Chaplain or Pastoral Care Staff.
SERIOUSLY/TERMINALLY ILL PARISHIONERS
If you or someone you know is seriously or terminally ill, please ask for one of our priests to visit you. They will be happy to visit, offer Penance, Anointing of the Sick, and Holy Communion as well as to accompany you in your illness. Please do not wait until a person is actively dying to summon a priest; the priest will arrive, but the dying person will miss the opportunity to receive pastoral support, make a good Confession, make a profession of Christian faith, and receive Holy Communion before s/he passes from this life. Nevertheless, in an emergency, please do not hesitate to call 717-564-1321 and select the emergency line.
HOMEBOUND PARISHIONERS
When illness (even temporary) or advanced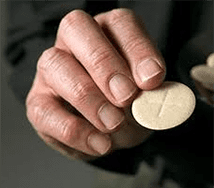 age restrict you from attending Mass you may wish to receive Holy Communion at home.  Saint Catherine Labouré Parish has a wonderful group of Extraordinary Ministers who carry our Lord in the Blessed Sacrament to our homebound parishioners each Sunday.  Contact the parish office if you are in need of this service.
In addition, our parish priests visit the homebound on or around the First Friday of the month to take them Holy Communion and offer them Penance and/or Anointing of the Sick, if desired.
ANOINTING OF THE SICK
Our priests are always available to celebrate the Sacrament of the Sick with those who are ill, of advanced age or preparing for surgery.  Please contact the Parish Office at parish@sclhbg.org or call 717-564-1321 to arrange to receive the anointing of the sick. The Second Vatican Council taught in 1963 that "'Extreme unction,' which may also and more fittingly be called 'anointing of the sick,' is not a sacrament for those only who are at the point of death. Hence, as soon as any one of the faithful begins to be in danger of death from sickness or old age, the fitting time for him to receive this sacrament has certainly already arrived." ["Sacrosanctum Concilium" §73, reiterated in the "Catechism of the Catholic Church" §1514] Please do not wait until a person is near death to call for a priest; we will be happy to accompany the sick person throughout her/his illness.
.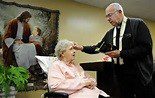 Each October around the feast of St. Luke, believed to have been a physician, a special Mass with Anointing of the Sick is celebrated for any of our homebound and others in need of the Sacrament who are able to attend.  For the convenience of the caregivers Mass is scheduled on a Saturday morning and followed by a light luncheon. Due to COVID precautions, lunch will not be offered until further notice.
PARISHIONERS IN NURSING HOMES
When a parishioner enters a nursing home she/he or a family member should notify the Parish Office to make us aware so we can keep the resident in prayer.  This is necessary since HIPAA regulations prevent institutions from notifying churches when a member is admitted.
Saint Catherine Labouré regularly ministers to all the Catholic residents in the five nursing homes within our parish boundaries:
Spring Creek
Ecumenical Community Building 1
Ecumenical Building 2
Ecumenical Building 3
Commonwealth Senior Living at Harrisburg
Each of these facilities has a monthly Mass and/or a weekly Communion Service. Penance and Anointing of the sick are each offered twice per year to the Catholic residents of these facilities. Due to COVID, these services are suspended till further notice.