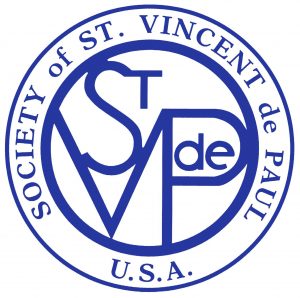 Saint Vincent de Paul was a French priest who was born of peasant parents in the late sixteenth century.  While preaching a retreat to a group of peasant on a large estate he felt a special call to minister to the poor.  Recognizing the priest's dedication to this work, the land owner's wife persuaded he husband to endow a group of zealous men to serve as missionaries to the poor town and country folk.
Vincent sought assistance in his work among the wealthy woman of his parish whom he organized into the "Ladies of Charity" which later became the religious community of the Daughters of Charity of Saint Vincent de Paul, of which Saint Catherine Labouré was a member.
Lay people who observed these charitable efforts and wished to imitate them organized themselves into groups known as the Saint Vincent de Paul Society.
Saint Catherine Labouré Parish's Saint Vincent de Paul Society is maintained primarily through donations to our poor boxes.  These are located in the wall above the holy water fonts inside the church.  The contributions are strictly reserved to assist the needy. 
You may contribute to the St. Vincent de Paul Society by clicking this link.