Mondays 7:00 PM (excluding Holidays)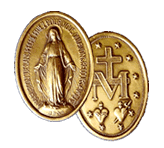 The word Novena comes from a word meaning "nine." A Novena consists of nine consecutive days or weeks of prayer for a particular intention. At our Novena each week we pray for general intentions, but we also pray for the needs of those who have asked for our prayers.
The Perpetual Novena to Our Lady of the Miraculous Medal takes place each Monday evening at 7:00 pm (excluding holidays) and is followed by confessions. All prayers that are requested are remembered at all of the Masses at the Shrine.
Prayer intentions can be submitted online: Submit Prayer Intentions
View the Novena Video:  Pray the Novena with Us
Pray whenever you can:  Download the Novena Prayers