Mondays 7:00 PM (excluding Holidays)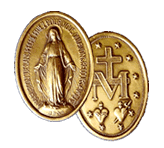 The word Novena comes from a word meaning "nine." A Novena consists of nine consecutive days or weeks of prayer for a particular intention. The 'original' Novena was the nine days between Jesus' Ascension and the descent of the Holy Spirit. At our Novena each week we pray for general intentions, but we also pray for the needs of those who have asked for our prayers.
The Perpetual Novena to Our Lady of the Miraculous Medal takes place each Monday evening at 7:00 pm (excluding holidays) and is followed by confessions. All prayers that are requested are remembered at all of the Masses at the Shrine.
Prayer intentions can be submitted online: Submit Prayer Intentions
Pray whenever you can:  Download the Novena Prayers
Watch Novena live or recorded: Watch the live Novena
Pray along with the Recording of the weekly Novena:  Pray the Novena with Us
View the Novena Prayer Video with captions: Pray the Novena Prayers
The Annual Solemn Novena to Our Lady of the Miraculous Medal is yearly from November 19 through 27.  To participate in the Novena daily during this time, follow the links above to pray the Novena Prayers or view the Novena video.