In these extraordinary times, we have the opportunity to pray in extraordinary ways,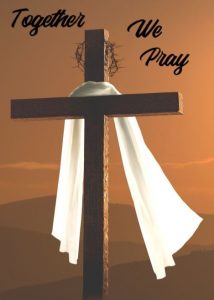 remembering that whether we are together or distanced, we form one Body in Christ. This is especially important as we enter into Holy Week and Easter.
In order to help you to connect to the parish liturgy, we will provide a video of Mass on Sundays, Wednesdays, and during the Paschal Triduum below.
You may continue to participate in parish stewardship via sclhbg.weshareonline.org or by texting "givescl" to 555888, or you may mail a check (with your regular envelopes) to the parish.  Checks should be made payable to "Saint Catherine Labouré".
The bulletin will be available online only until further notice.  Other prayers and devotions may be found at the link below for Spiritual Resources; please use them during this time.
Mass Videos and Holy Week Schedule – see below
---
The Mass videos will be available below and on our Facebook page at the listed times.
* Times are approximate; we may experience unforeseen delays.
Wednesday Daily Mass • Wednesdays • 9:00 p.m.  (no video April 8)
Sunday Mass • Sunday • 8:30 a.m.

Holy Week and Easter Schedule
Palm Sunday • April 5, 2020 • 8:30 a.m.
Follow along with the Gospel reading of the Passion
Blessed palms will be available to the faithful at a future time.
Holy Thursday • April 9, 2020
Morning Prayer (on Facebook Live) • 9:00 a.m.
Mass of the Lord's Supper Video • 9:00 p.m.
Good Friday • April 10, 2020
Morning Prayer (on Facebook Live) • 9:00 a.m.
Veneration of the Cross Liturgy Video • 3:00 p.m.
Holy Saturday •April 11, 2020
Morning Prayer (on Facebook Live) • 9:00 a.m.
Easter Sunday • April 12, 2020
The Solemn Vigil of Easter Video • 9:30 a.m.
Easter Sunday Mass Video • 9:30 a.m.
Good Friday and Easter Sunday Bishop Gainer Masses on ABC 27
---
Please note: To view the video in full screen and other options, click on the word "vimeo" in the lower right corner.
Mass for Wednesday of the 5th Week of Lent, April 1, 2020
Mass for the 5th Sunday of Lent, March 29, 2020
Links to other Mass videos:
Mass for the Solemnity of the Annunciation of the Lord, March 25, 2020