Collection dates:
Second Weekend of Each Month
Before/After masses
Narthex
Catherine's Cupboard, named in honor of Saint Catherine Labouré and her compassion for the needy, is a small food pantry of non-perishable food items.  The pantry serves emergency food needs for people seeking immediate assistance. It is stocked through the generosity of our parishioners who con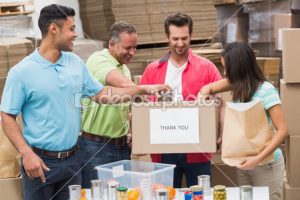 tribute to the monthly food collection on the second Sunday of each month.  Canned goods and boxed goods are always welcome.
High protein items such as: powdered milk, tuna, peanut butter and canned meats are especially helpful.
Every few months,  we will collect basic personal items and household cleaning supplies which can be distributed by Saint Catherine and the Catholic Worker House along with the food we offer. Below are some suggested items most of which may be found at any dollar store.
PERSONAL SUPPLIES
toothpaste/toothbrushes
dental floss
bath soap
lotion
deodorant
shampoo/conditioner
HOUSEHOLD SUPPLIES
laundry detergent
cleanser
dish soap
toilet tissue
bowl cleaner/brush
cleaning/disinfecting solutions
Travel or standard size toiletry items are also graciously accepted.
If you find yourself in need of this service call 717.564.1321 x134.  You will need to present a current driver's license or photo ID.
DID YOU KNOW? Just beyond our boundaries is The Catholic Worker House in Allison Hill. Their need is much greater than ours and because of your generosity we are able to share our abundance with them each month.