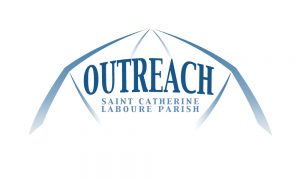 Collection dates:
Second Weekend of Each Month
Before/After masses
Narthex
Catherine's Cupboard History
On July 8, 2012, Catherine's Cupboard –  named in honor of  Saint Catherine Labouré and her compassion for the needy – was announced as our mini emergency food bank, which provided food for individuals and families in need when they stopped by the parish.  Our parishioner's response to this call for assistance was phenomenal, and beyond all expectations. Month after month, the grocery cart was overfilled with food and other needed items, which allowed us to share the bounty with Saint Francis Soup Kitchen and The Catholic Worker House in Harrisburg.
So much has changed since 2012, including the need expressed by those calling or visiting our doorstep. Our parish receives requests for clothing and blankets for people living on the streets, gasoline for travelers trying to reach a new home or to visit a loved one in the hospital, or utility and rental assistance. Again, due to parishioner's generosity, a few of those needs were able to be filled. In most situations, it was necessary to make referrals to community organizations.
In 2021, the parish began exploring ways to move Forward to Better as we continue to be a resource to our community through our Catherine Cupboard Sunday collections.  After much prayer and consultation, we decided to move forward through special projects and partnerships with local agencies that meet specific needs in our local community.
Our first project will benefit The Silence of Mary Home, an organization committed to serving Jesus in the chronically poor, whether they live within The Silence of Mary family homes, or in the inner city of Harrisburg. Working closely with other agencies, they identify individuals that do not have a home or place to go due to mental illnesses or other impairment, or physical disabilities.
To assist in their mission, we are collecting personal hygiene items throughout July and August.   Needed items include sample size: shampoo, lotions (hand or body), shaving cream, toothpaste, soap, deodorant.  Other needs include toothbrushes, razors, and washcloths, toilet paper, and gallon size Ziploc type bags.
On Saturday, September 11, 2021, we will participate in the National Day of Service and Remembrance by sorting and assembling these items into personal comfort kits, which will be distributed by The Silence of Mary Home.
BECOME INVOLVED!  Catherine's Cupboard Collection Cart will be in the narthex the weekends of July 10/11 and August 14/15 for the donated items listed above.
Sign up to assemble kits • SEPTEMBER 11 • 9:00 AM—12:00 PM
Sign up at https://sclhbg.org/parish/national-day-of-service/