2:45 p.m. –  4:30 p.m.
Shrine Church
Sunday, April 11, 2021
The Saint Catherine Laboure Council of Catholic Women is sponsoring a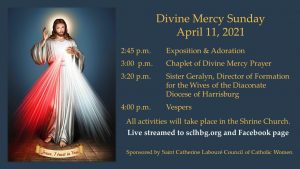 Eucharistic Holy Hour of Prayer on Divine Mercy Sunday, April 11 in the Shrine Church. The message of The Divine Mercy is simple. It is that God loves us and wants us to recognize that His mercy is greater than our sins.
We will begin at 2:45 p.m. with Exposition of the Holy Sacrament followed by recitation of the Divine Mercy Chaplet at 3:00 p.m., the Hour of Divine Mercy. Our speaker is Sr. Geralyn Schmidt, SCC, Director of Formation for the Wives of the Diaconate, Diocese of Harrisburg. Known for her sense of humor and great joy, Sister encourages her audiences to be the person God has called them to be.
The program concludes with Vespers and Benediction. Confessions will be heard from 3:00 p.m. — 3:45 p.m.
The program will be live streamed to the parish webpage and the parish's Facebook page. Face masks and social distancing required.
For additional information, please contact CCW at sclhbccw@mail.com.