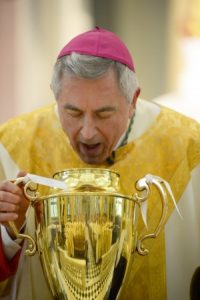 Monday, March 26, 2018
5:30 p.m.
Saint Patrick Cathedral, Harrisburg
At this Mass, Bishop Gainer blesses the Holy Oils used for the Sacraments and our priests renew their commitments to priestly life and ministry. Our parish sponsors a bus that will be leaving our parking lot at 4:30 p.m. and will return at approximately 7:00 p.m.
Reserve your seats for the bus by calling the parish office at 717.564.1321 or reserve online below.
Click here to sign up for the Chrism Mass Bus.