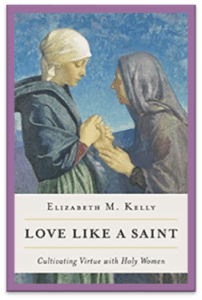 Coming this Fall: Women's book club.  Join us for 6 weeks of reading, fellowship, and faith-sharing! The group will begin Wednesday, September 21st.  We will be meeting from 6:30-8:00 pm in Room 109.
The first book we will be discussing is Love Like a Saint by Elizabeth Kelly.  In Love Like a Saint, you are invited to be inspired by remarkable saints-virtuous, flawed, and real women who teach us how to surrender to God and be open to his grace. They are students, wives, employees, friends, and will be your companions in your faith journey.
The cost of the book is $14.95 and will be ordered for you upon registration.  To register for the club please complete the form below.
Payment is due at the first session.  For questions, please contact Alycia Laureti at alaureti@sclhbg.org or 717.564.1321 ext. 132.
Women's Book Club
Registration for Women's Book Club