Don't know how to knit or crochet, but would like to learn?  We will teach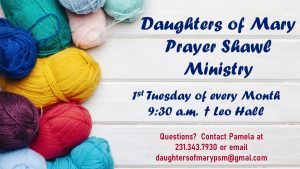 you. 
The Prayer Shawl Ministry will meet on Tuesday, July 5 in Leo Hall from 9:30 a.m.-11:30 a.m.  All are welcome to attend.   Meetings are monthly on the first Tuesday of the month.
Not interested in knitting or crocheting but would like to contribute?  The shawl ministry is always in need of yarn.  Donations of yarn, or gift cards to JoAnn's or Hobby Lobby, may be dropped off at the meeting or in the parish office at your convenience.