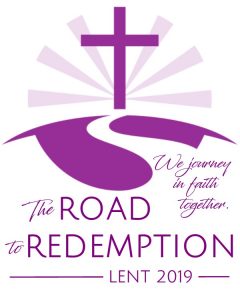 Click for more details about the Lenten opportunities:
♦ Prayer on the Road to Redemption
♦ Fasting on the Road to Redemption
♦ Almsgiving on the Road to Redemption
Special Offerings on the Road to Redemption
from DARKNESS to DAWN – Wednesday Lenten Soup Suppers
from FLOUNDERING to FULFILLMENT – Made for More Presentation
from SORROW to SUNRISE- Grieving with Great Hope Weekend
from PALMS to PASSION – Living Stations of the Cross
from PENNSYLVANIA to PARIS – Parish 70th Anniversary Pilgrimage to France

Diocesan Events:
Diocese of Harrisburg Men's Conference
Men Called to be Saints
Saturday, April 6 • 7:45 a.m. – 4:15 p.m.
Bishop McDevitt High School
Conference includes: Celebration of Mass with Bishop Gainer; Keynote Address by Dr. John Bergsman, Professor of Scripture at Franciscan University of Steubenville; workshop sessions; opportunity for Confession, Eucharistic Adoration, praise and worship, and fellowship with hundreds of men! For information, click here or contact Jim Gontis at 717.657.4804 x 227 or jgontis@hbgdiocese.org
Chrism Mass
Monday, April 15 • 5:00 p.m.
Saint Patrick Cathedral, Harrisburg
At this Mass, Bishop Gainer blesses the Holy Oils used for the Sacraments and our priests renew their commitments to priestly life and ministry. Our parish sponsors a bus that will be leaving our parking lot at 4:15 p.m. and will return approximately 7:00 p.m. Reserve your seats for the bus here or by calling Deb in the parish office at 717.564.1321.