SAINT CATHERINE LABOURE'S 2020 DIOCESAN ANNUAL CAMPAIGN
The Diocese of Harrisburg has launched its 2020 Diocesan Annual Campaign with the theme Rooted in Faith. Each year, the Diocese assigns every parish its financial share to accomplish its ministries of service, compassion, and care. The figure is determined by looking at the parish's size and income. Our expected share for 2020 is $199,800.00.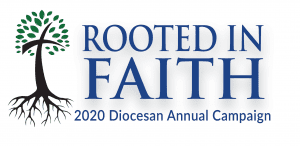 Past donors who have received a letter from the Bishop in the mail are invited to return your pledge and/or gift to the parish office. We will be sure to record your gift/pledge and forward it to the Diocese on your behalf.
Help us reach our goal! 
If you would like to join this effort, please contact Sharon in the parish office (717-564-1321) to receive a commitment card by mail.   If desired, donations may also be made online through the Diocese of Harrisburg website at www.hbgdiocese.org   Remember, your contribution may be spread out through payments during the year.  Thank you for your prayerful consideration and continued generosity.
The Diocese assures us that your gift will not be used for the Survivors Compensation Fund nor legal fees.
Campaign Update 
Coming Soon