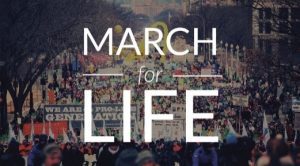 Friday, January 19, 2018
7:15 a.m. – 7:30 p.m.
Washington, D.C.
"Testify to the beauty of life and the dignity of each human person."
A parish organized bus will be available for those wishing to March for Life in Washington, D.C. The bus will depart Saint Catherine Labouré Parish promptly at 7:15 a.m. and return to the Parish at 7:30 p.m. In order to cover the cost of the bus, riders are asked to pay $25.
Please contact Kathy Sperry in the Parish Office to reserve your seat at 717.564.1321