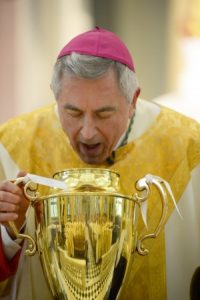 Monday, April 15, 2019
5:00 p.m.
Cathedral of Saint Patrick, Harrisburg
Bishop Gainer, joined by the priests of the diocese, will gather at the Cathedral of Saint Patrick to celebrate the Chrism Mass. Saint Catherine Labouré will provide bus transportation to and from the Cathedral at no charge for those wishing to attend.
The bus will depart Saint Catherine's at 4:15 p.m. and return immediately following  with dinner and fellowship in Leo Hall.
Reserve your seats for the bus by calling Deb the parish office at 717.564.1321 x132 or reserve online below.