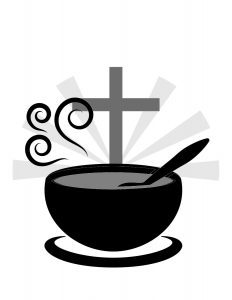 Please join us during the remaining Wednesdays of Lent, for a special 5:30 p.m. Mass, followed by a simple meal of hearty homemade soup, reflection, and discussion.
March 20, 27 and April 3, 10, 17
Mass • 5:30 p.m. • Shrine Church
Soup Supper • 6:00 p.m. • Leo Hall
This Lent On the Road to Redemption, our Wednesday evening Soup Supper series is called Hot Soups and Hot Topics. The topics discussed are relevant social concerns for consideration and prayer as Catholic Christians witnessing to the Faith in our modern world. This year's guest presenters will help us make the connection between the Sunday Gospel readings, our Catholic Faith, and societal and family concerns. Our topics include:
March 20 End of Life
March 27 Addiction
April 3 Homosexuality
April 10 Divorce and Remarriage
April 17 Living Stations of the Cross
There will be a special opportunity to participate in almsgiving through a free will offering during soup suppers. Proceeds will go to Catholic Relief Services' Operation Rice Bowl supporting programs around the world, helping farmers improve harvests, bringing clean water to communities, and providing health and nutrition services to mothers and children.
Thank you to our Parish Pastoral Council for their help in providing homemade soups, bread and drinks each week. Rice Bowls are available on the table in the narthex of the church if you wish to participate in this program.