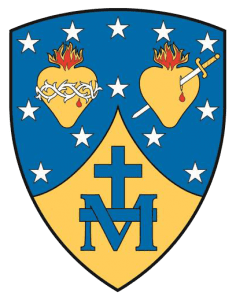 Dear Sisters and Brothers in Christ Jesus:
This Lent we have traveled the Road to Redemption together to the solemn celebration of the Passion, Death, and Resurrection of Jesus during the Easter Triduum.  The Lenten journey reminds us that we are all pilgrims making our way to our ultimate destination – Eternal Life with God in Heaven.   Sometimes we walk together, sometimes on our own.  Some people journey with us along the way for a time and then their journey leads them to another point on the path.  As we walk with Jesus this Holy Week, I share with you some important news about my own path and Father Coyle's path of priesthood and where our walk with Jesus is leading us.
In the second reading today, we hear that Jesus is obedient.   Priests are configured to Christ in a special way and share in His life by our ordination promises of prayer, celibacy, and obedience.   Obedience is lived out particularly in our "yes" to the Bishop regarding priestly ministry assignments.   This "yes" will involve Saint Catherine Labouré Parish this year.
To meet the needs of the People of God, Bishop Gainer, in consultation with the Priest Personnel Board, has announced a number of priest appointments and transfers.  These changes are being announced earlier than usual this year to help with preparations and transitions.  They are being announced in the parishes involved this weekend.
Bishop Gainer has appointed me the Pastor of Good Shepherd Parish, Camp Hill effective June 17, 2019. I have been blessed to have served two assignments here at Saint Catherine's.   First, as a Parochial Vicar for four and a half years from 2002 to 2006.   Then, in 2010, I was humbled to return and serve as your pastor for the last nine and a half years.  Fourteen years of my twenty-two years of priestly life have been shared with and enriched by you, the amazing people of this amazing parish.  These fourteen years have been filled with countless graces, growth, renewal, joy, and happiness.  You have nurtured me with your goodness, holiness, and love.  We have worshiped, worked, and celebrated; laughed, cried, and mourned; served, shared, and grown – together.   We have prayed, believed, and lived as disciples – together, as a parish family.
Even in saying "yes", I am still taking this news in and processing it. There are many emotions and thoughts in my mind and heart right now and I'm searching for the words that completely articulate how much you and this parish mean to me.  Over the next two months, I hope to be able to fully express my profound love and thanks to all of you.  Please know my heart overflows with gratitude. I am so grateful for your love, kindness, support, and patience.  I also ask your forgiveness for any way I have fallen short or missed the mark because of my humanness. You have been so good to and for me.  The journey we have shared together at Saint Catherine's will strengthen and inform the next phase of my service to God and the Church. For that, I am eternally grateful.
Father Coyle will also transition to a new assignment.  Bishop Gainer has appointed Father Coyle the Pastor of Saint Paul the Apostle Parish, Annville and Campus Minister at Lebanon Valley College effective June 17, 2019.  We have all witnessed Father Coyle's tremendous gifts and the joy he brings.  The Bishop recognized it too and has entrusted him with a wonderful first pastorate.  It has been a magnificent blessing for me to be with Father Coyle these past two years.  He has been – and will continue to be – a real brother and true friend.
Bishop Gainer has named Father James Lease the next pastor of Saint Catherine Labouré Parish.  Father Lease is currently the pastor of Saint Joseph Parish, Danville and the Director of the Diocesan Office for Ecumenical and Interreligious Affairs.  He is a good, holy priest.  You will love him and he will love you! The new Parochial Vicar will be announced in June.
We will have much time to pray, talk, and be together over the next two months.  This will be a very special Easter Season here at Saint Catherine's with new life and new beginnings. There is much to do, enjoy, and celebrate.  Let us continue to pray for and with each other during this holy time.   God has great things instore for all of us.
With every best wish and prayers, I am
Yours in Christ,
Father Neil Sullivan