Friday, April 5, 2019 • 7:30 p.m. – 9:30 p.m. • Shrine Church
Saturday, April 6, 2019 • 10:00 a.m. – 4:00 p.m. • Leo Hall
Grieving  with Great HOPE beautifully combines practical wisdom, personal sharing, and meaningful ritual that together point people back to Christ for healing of their hearts." Those suffering the loss through death of a loved one, are invited to join in this weekend workshop hosted by Sandy and John O'Shaughnessy and Good Mourning Ministry as we come to see that there are no stages of grief and that we all grieve in our own unique way. In community we realize that we are not alone and that through faith and with Christ our hearts can heal. Included in the weekend is the opportunity for: Stations of the Cross, Mass, Adoration, and Confession.
The $20.00 per person registration fee includes program materials, Continental Breakfast, an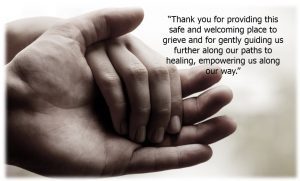 d Lunch.   Please Note:  Online payments will include an additional $1.00 processing fee. 
You may register one of three ways: