LAST CHANCE TO JOIN US FOR FRIDAY NIGHT LENTEN FISH FRY DINNERS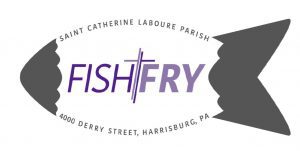 APRIL 12, 2019
4:30 P.M. — 7:30 P.M.
MURRAY HALL
If you haven't been able to enjoy our fabulous Fish Fry this is your last chance (until next year.)!
Dinner Platters include:
 Deep fried beer battered Pollock
 Baked Swai fillet (mild white fish)
 Deep fried beer battered Pollock bites (for the smaller appetite.)
All dinners come with choice of French fries, baked potato or macaroni and cheese, plus choice of Cole slaw or applesauce and a dessert. We are also featuring home made pierogi dinner served with choice of Cole slaw or applesauce, plus a dessert.
You may dine in with family and friends or take out to friends and neighbors.
Through March 29, we have served over 1100 dinners! Help us surpass our goal of 1500 dinners for our first year.
An added treat is homemade chocolate eggs. We will be selling milk chocolate peanut butter, dark chocolate peanut butter, and dark chocolate coconut eggs at the fish fry.
We're still accepting donated baked goods. You may drop them off in the narthex beginning 9:30 a.m. on Friday.
We look forward to seeing you there!