Pastor's Letter 2018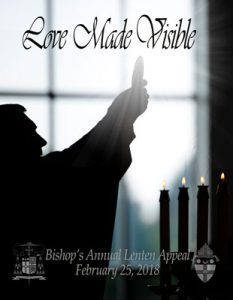 Lent begins in just 10 days!  Yes, Ash Wednesday is on Valentine's Day this year.  How appropriate that on a day represented by a heart, we start the holy season of preparing our hearts for Easter.
The past year has been a time of transformation for our parish.   The renewal of our Shrine Church through our refurbishment project is amazing.  But just as we provided our church with the tender loving care it needed and deserved, we also need to provide our hearts with continual renewal as we seek to grow closer and closer to God.   Lent is an important time for that.  Lent is a time of transformation of our hearts.
This Lent, our theme is: Transformed by Hope in the Cross of Jesus Christ.   We will reflect each week on how the victory of Jesus' Cross transforms our lives with hope.  The enclosed flyer details several opportunities for us to experience and share hope this Lent and be transformed.   Let us all take advantage of these opportunities for grace and growth.
An ancient Christian symbol for hope is an anchor.  Prayer, fasting, and almsgiving anchor our Lenten journey.  Lent provides a special opportunity to help others be transformed by hope.  A special way to do that is through the Bishop's Annual Lenten Appeal which assists Bishop Gainer in serving the needs of the Diocese of Harrisburg with pastoral, educational, and charitable services to individuals, families, and local communities. The theme of this year's Appeal is Love Made Visible.  The Lenten Appeal makes love visible by providing hope that transforms the lives of so many served by the Catholic Church in Central Pennsylvania.
Each year, the Diocese assigns every parish its financial share of the care of the larger Church.  This figure is determined by looking at the parish's size and income.  Our expected share for 2018 is $199,800. While this is a very large sum, we know that we can accomplish it when we work together at it for God.
I will be speaking at each Mass next weekend (February 10/11) about our responsibility and opportunity to assist Bishop Gainer to make love visible in the 15 counties that form our Diocese.  We will conduct our In-Pew Pledge Program on the weekends of February 17/18 and February 24/25.  Response envelopes will be distributed and collected during Mass.  I ask respectfully that we all be prepared to make a commitment at that time.  Our contributions may be spread out through payments during the year.
Our parish has an incredible legacy of love that transforms lives with hope. One of the beautiful hallmarks of our parish is generosity.  With demands on our personal finances, we are always ready to share and rise to the occasion to meet any challenge.  I am so grateful and humbled to be your pastor.
Be assured of my deepest thanks for your past participation in the Lenten Appeal.  I count on your kind and loving support this year.  May all of us be Transformed by Hope in the Cross of Jesus Christ this Lent as we pray, believe, and live as His disciples.
Yours in Christ,
Neil S. Sullivan
Very Reverend Neil S. Sullivan, VF
Pastor