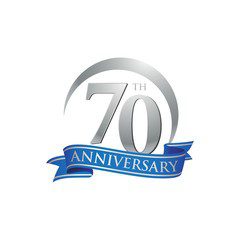 Leading up to our parish's 70th Anniversary on March 1, 2018, we will share 70 steps our parish family has taken together.
To help set the scene and historical context of when Saint Catherine Labouré Parish was founded in 1947:
1. Pope Pius XII was head of the Catholic Church.
2. Most Reverend George L. Leech was Bishop of the Diocese of Harrisburg.
3. Harry S. Truman was the 33rd President of the United States.
4. James H. Duff was the 34th Governor of the Commonwealth of Pennsylvania.
5. Howard E. Milliken was the 28th Mayor of City of Harrisburg.
6. Catherine Labouré was canonized on July 27, 1947.
7. Permission was given on August 21, 1947 to purchase 2.897 acres of land along Derry Street and Peiffers Lane in Lawnton.
Established on March 1, 1948, our parish's "firsts" occurred during the end of the 1940s.
8. May 1948: First Holy Communion, Confirmation and May Crowning
9. November 28, 1948, Laying of Cornerstone for Saint Catherine Labouré School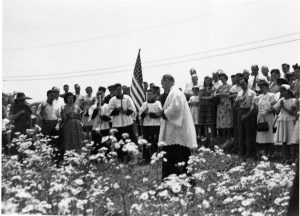 10. June 2, 1948: First Wedding, held in chapel of the Rectory
11. July of 1948, the Holy Name Society, the AltarRosary Society, the National Council of Catholic Women, and the Sodality of Blessed Virgin Mary had formed and become quite active.
12. April 23, 1949, First Marriage in "temporary" church
13. July 4, 1949: First Funeral Mass
14. August 6, 1949: Daughters of Charity arrive for the school year beginning on September 1, 1949.
On April 28, 1948, parishioners were invited to a linen and kitchen shower to outfit the rectory. Other activities involving the entire parish included bake sales, clothing drives, booths at the Farm Show, and bingo, which still occurs today.
The 1950s were a time of expansion for the ever growing parish. A number of building and spiritual needs became priorities.
15. On May 8, 1950, Patricia Maher was received into the Foreign Mission Sisters of St. Dominica at our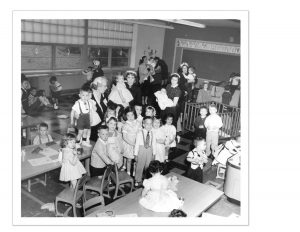 Lady of Mary Knoll Novitiate, being the first girl from the Parish to enter the convent.
16. On December 10, 1951 a newly organized Nursery School was established to be held during the 10:00 a.m. Mass. By September 1954, the nursery staff had seven members.
17. February 1952 saw the beginning of a "library" or collection of Catholic books available to parishioners to read and return. Parishioners were involved in building the collection through the donation of spiritual reading materials.
18. On May 7, 1952, youth of the parish were invited to an initial meeting of the Catholic Youth Organization (CYO).
19. April 19, 1953 marked the beginning of construction for the additional classrooms, which were ready for occupancy by Christmas.
20. On May 16, 1954 ground was broken for the convent. Dedication ceremonies were held on April 15, 1955.
21. September 16, 1956 marked the date of the first Parish Picnic held at the Fraternal Order of Police Picnic grounds with a donation of $3.00 per family.