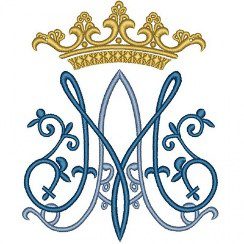 Monday, May 14, 2018
7:00 p.m.
Shrine Church and Plaza of Our Lady of the Globe
The Parish May Crowning and Procession will begin in church with the Perpetual Miraculous Medal Novena.  It will feature prayers, hymns, procession and crowning led by the youth of our parish.
A beautiful tradition in each parish was the annual May Crowning when a crown made of flowers was placed on the statue of the Blessed Virgin Mary.  Here at Saint Catherine Labouré Parish it was a wonderful and huge celebration.  We are rekindling that special tradition that goes back 70 years to our parish's founding with a special procession following the Monday evening Miraculous Medal Novena to the Plaza of Our Lady of the Globe where the Blessed Mother will be crowned as a sign of our love and affection.