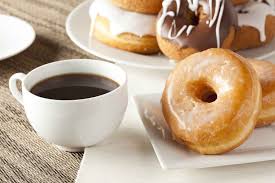 Join us on the first Sunday of most months after 9:30 a.m. Mass in Leo Hall! 
Upcoming Dates
February 4            Hosted by Health & Wellness Ministry   
March 4                Hosted by Knights of Columbus Council 12811
May 6                   Hosted by Council of Catholic Women
Spend time getting to know your fellow parishioner from across the aisle or simply grab & go!
The Coffee & Donut Social is a great opportunity for your organization to promote an upcoming event or hold a membership drive.  
It's easy – YOU provide the manpower and WE provide the caffeine and  sugar rush.   Secure your organization's date today!