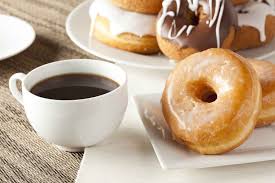 Join us on the first Sunday of most months after 9:30 a.m. Mass in Leo Hall! 
Upcoming Dates
February 3, 2019
April 7, 2019
May 5, 2019
June 2, 2019
Spend time getting to know your fellow parishioner from across the aisle or simply grab & go!
The Coffee & Donut Social is a great opportunity for your organization to promote an upcoming event or hold a membership drive.  
It's easy – YOU provide the manpower and WE provide the caffeine and  sugar rush.   Secure your organization's date today!