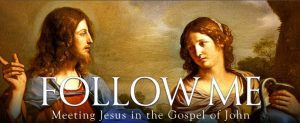 Follow Me – Meeting Jesus in the Gospel of John
Saturdays ▪ May 6, 2017 (8 weeks)
7:00 a.m. – 8:00 a.m. ▪ Leo Hall
As the Good Shepherd, Jesus seeks after us.  Follow Me invites you to experience the joy of a renewed friendship with Christ.  Learn what it takes to follow Christ; discover the joy of divine friendship; see how God, and only God, can satisfy the deepest desires of your heart. 
For more information or to register, contact Chase at chasedefelice84@gmail.com or Deb at dgelbaugh@sclhbg.org or 717.564.1321 x 132.