Pastor's Letter 2017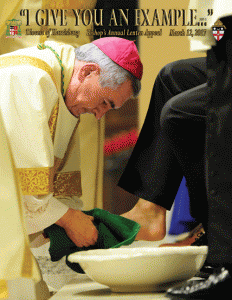 A special element of Lent each year is the Bishop's Annual Lenten Appeal that assists Bishop Gainer in serving the needs of the Diocese of Harrisburg through pastoral, educational, and charitable services to individuals, families, and local communities. The theme of this year's Appeal is taken from Saint John's Gospel, I give you an example. These words bring us to the Last Supper as Jesus washes the feet of His disciples and tells them (and us) to do the same. Our participation in the Lenten Appeal helps wash the feet and transform the lives of so many served by the Catholic Church here in Central Pennsylvania.
Each year, the Diocese assigns every parish its financial share of the care of the larger Church based on the parish's size and income. Our expected share for 2017 is $199,800. While this is a very large sum, we know that we can accomplish it working together for God. We will conduct our In-Pew Pledge Program on the weekends of March 11/12 and March 18/19. Response envelopes will be distributed and collected during Masses those weekends. I ask respectfully that you prayerfully prepare to make a commitment at that time.
Saint Catherine Labouré Parish is blessed with many gifts. Generosity is one of our parish's hallmarks. With many demands on our personal finances, this parish is always ready to share and rise to the occasion to meet any challenge. Your amazing support of our Honoring the Vision Capital Campaign along with your regular and faithful support in our weekly collection is truly edifying. I am so grateful and humbled to be your pastor. Be assured of my deepest thanks for your past participation in the Lenten Appeal. I count on and I am deeply grateful for your kind and loving support this year.
We make the journey together to celebrate, know, grow, and share our Faith. Let us pray that as we prepare to renew God's House this spring and summer, He will renew our hearts this Lent. May our Pilgrimage to the Passion bring us closer to Jesus and to each other … praying, believing, and living as His disciples.
Yours in Christ,
Neil S. Sullivan
Very Reverend Neil S. Sullivan, VF
Pastor